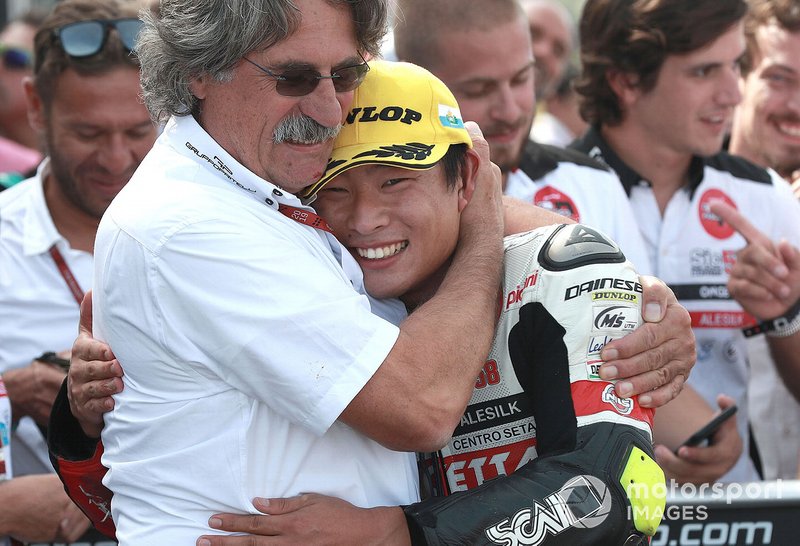 WHERE DOES SPEED COME FROM?
There's more than one answer, but speed often comes from a small area in northeastern Italy known as The Riders' Land.
Six of the riders on the podium in Jerez last week live in The Riders' Land. Rossi in MotoGP, Bastianini, Marini and Bezzecchi in Moto2, and Suzuki and Vietti in Moto3. Two more who were in podium contention - Morbidelli and Bagnaia - live there; and Andrea Dovizioso is a native.
In all, the area is home to around thirty of the riders in the MotoGP paddock this year.
The Riders' Land consists of the coastal region of Romagna, with the Misano racetrack at its heart, plus the principality of San Marino, and a small but very important piece of the Marche region just south of Misano where Valentino Rossi lives and the VR Academy is based.
Everybody there rides. Motorcycle racing is bigger than football.
Marco Simoncelli is among Romagna's most famous sons. These days, Simoncelli's colors are worn by Tatsuki Suzuki and Niccolo Antonelli, who race in Moto3 for the SIC58 team owned by Marco's father Paolo.
Antonelli is also from Romagna, and Suzuki is now an honorary citizen. He lives in Riccione near Misano.
The last rider to dominate the junior-class at Jerez like Suzuki did - taking pole position and then winning - was Marco Simoncelli.
Suzuki scored his first GP victory last year at - where else? - Misano World Circuit Marco Simoncelli, the racetrack named after his boss Paolo's fallen son. An emotional day? Just look at the photograph.
This year, with the double-header at Misano in September, Suzuki and Antonelli have two more chances to repeat that historic victory.
Given the number of local riders in all classes, emotions, as well as speeds, may be running high in the Riders' Land this year.
The Riders' Land from Mark Neale on Vimeo.